Printer Friendly copy of this information
I have books from the library, should I be concerned?
Bed Bugs are a community-wide issue that potentially affects all public-access buildings including schools, hospitals, office buildings and more. Libraries and most public buildings are not ideal environments for bed bugs to thrive. Therefore a Library infestation is extremely unlikely. However, it is in the best interest of our patrons to inspect Library materials before taking them home. Information and photos of how to do this are available on our website: www.greensburglibrary.org/bugs. If you are concerned about materials you borrow, you can keep them in plastic, zip-top bags when not in use, and not place materials on or near bedding.

Will the library notify me if my books may have been affected? Only in cases where the Library staff is absolutely certain of the source of bed bugs will the patron be notified. Over the years we have had items returned with other bugs present. We have contacted the patrons returning the items and discussed the issue in a confidential manner. We will take the same course of action with bed bugs.

Will the library close if bed bugs are found? The Greensburg – Decatur County Public Library is taking many steps to avoid the closing of a Library location unless recommended by a qualified pest control company. Most treatments can be done in isolated areas without affecting services and can be performed during non-business hours.

What exactly IS the library doing to prevent a bed bug infestation? Library staff is inspecting each item which is returned to the Library. Items with any evidence of possible bed bug contact will be isolated and treated with our ZappBug Oven 2. Quarterly inspection from a certified Bed Bug Dog will alert the Library to areas in our locations which may need treatment. Any areas in which the dog alerts will be treated by a qualified pest control company.
How do I minimize my risk of exposure to bed bugs?
A library is not a conducive environment for bed bugs to thrive. They require a sleeping, human or animal host to feed from, and they will stay close to their food source. Without nourishment, bed bugs will not populate and spread. They are typically brought in to a building on people, on clothing, in bags, etc. If patrons are concerned about materials, keep them sealed in a plastic zip-top bag when not in use and do not place books on or near beds or bedding.
What if I find evidence that my Library materials are affected by bed bugs?
Immediately seal all Library materials in a zip-top plastic bag and notify the Library you borrowed from of the incident. You may return the materials to the Library in zip-top bags and indicate upon return that you found evidence of bed bugs.
Your privacy is important to us. We will not make public any bed bug incidents.
Do NOT attempt to treat Library materials on your own by placing them in the microwave (we tried this…it wasn't pretty microwave image 1, microwave image 2) or oven. Library spine labels have metal backing that will spark and start a fire. Do not spray Library materials with pesticides. You will be held responsible for any damages sustained to materials during a self-treatment process.
What if I return materials that are found to contain bed bugs or evidence of bed bugs (example, live or dead bed bugs, larvae or signs of waste)? Your privacy is important to us. We will not make public any bed bug findings. Instead, we will speak directly and confidentially with the patrons who have returned items which have bed bug evidence. Depending on the severity of the evidence the Library may temporarily suspend patron accounts until the patron can present proof that their residence has been treated by a licensed pest control company.
---
Basic tutorial: How to inspect your library materials.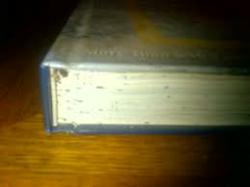 Image of a bed bug on the bottom of a book
Image of eggs on a book page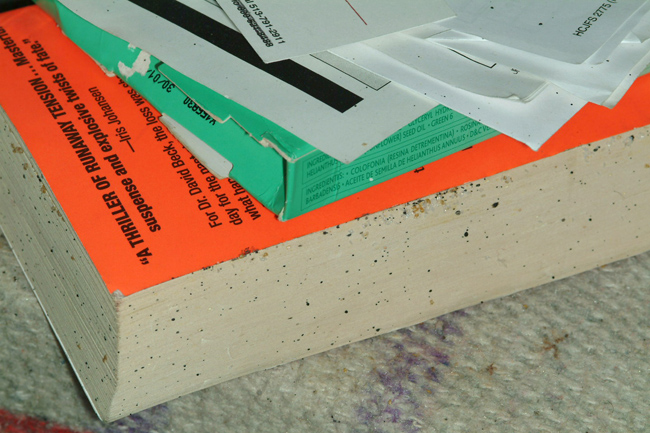 Image of fecal stains on book
More information on Bed Bugs:




Videos:
How to protect yourself while traveling:
How to protect yourself in a hotel room: